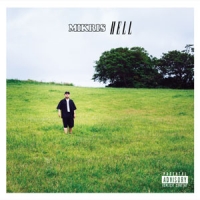 MIKRIS
"HELL" -LP-
MIKRIS
TITLE :HELL
LABEL
:DOG HOUSE MUSIC
 (JPN)
GENRE :
[JAPANESE]
[RAP]
衝撃の傑作『6 COFFIN』『6 COFFIN ReBoot』で音楽好きな"スキモノ"タチの頭、いや脳みそごと揺らせたMADな男:MIKRISの4thアルバム『HELL』がヴァイナル化!!
客演にはJ.Columbus、MASS-HOLE、NERO IMAI、PSYCHO PATCH、トラックメイカーにはMANTLE as MANDRILL(THE SEXORCIST)、HIMUKI、DJ HIGHSCHOOL、RAMZA、VOLOJZA、Ji2kia、BUSHMIND、MASS-HOLE、GRUNTERZといったMIKRISが信頼を置くMADな布陣が集結。言わずもがなアナログで聴きたいトラックばかり!!!
A1. HELL
A2. Worlds goes Mad feat. J.Columbus and MASS-HOLE
[Produced by MANTLE as MANDRILL]
A3. Word of Mouth
[Produced by HIMUKI]
A4. Bag Snatcher feat. Nero Imai
[Produced by DJ HIGHSCHOOL]
A5. HSWR feat. UNDER$TABLE
[Produced by DJ HIGHSCHOOL and RAMZA]
A6. Think About You
[Produced by VOLOJZA]
A7. Love
[Produced by Ji2kia]
B1. Crazies
[Produced by Bushmind]
B2. LLEH
B3. A.I.
[Produced by MASS-HOLE]
B4. CB$ feat. Lil Paya
[Produced by DJ HIGHSCHOOL]
B5. A DAY IN MY MIND feat. PSYCHO PATCH
[Produced by MASS-HOLE]
B6. EGO TRIPPIN
[Produced by ZKA for GRUNTERZ]
FORMAT : LP
CATNO. : TDHM-007LP
RELEASE : 2020/02
DATE : 2020/02/14